Beauty & Self
Books & Music
Career
Computers
Education
Family
Food & Wine
Health & Fitness
Hobbies & Crafts
Home & Garden
Money
News & Politics
Relationships
Religion & Spirituality
Sports
Travel & Culture
TV & Movies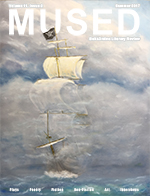 Our time on this Earth is fleeting and precious. We often know that in a vague, intellectual sense, and yet we can find ourselves whittling away those finite minutes without mindful thought. We should celebrate the beauty in a child's smile. The radiant sound of saying "I love you" to that special person. The warm touch of a hand. The delicate scent of a wildflower.

Enjoy the Mused Summer Solstice 2017 Issue



Five Reasons Kids Should Make Their Beds
Etiquette - Lisa Plancich, Editor

During the summer general routines fall apart. Making a bed should still be a chore that is enforced whether school is in session or not.




Independence Day Movie Review
Action Movies - Dianne Walker, Editor

You know it's going to be a bad day when you wake up and an alien ship is hovering over the planet. Are they here to be friendly, or do the aliens have something else more sinister in mind? Captain Steven Hiller and President Whitman had better find out before the clock counts down to zero.




The Gifting 3 Book Series Review
Reading - Connie Mistler Davidson, Editor

The Gifting, The Awakening, and The Gathering are books in a series written by K. E. Ganshert for the Young Adult market, but they can be enjoyed by adults, too. This series is a page turning adventure in reading. The series has action, a sweet romance, and is filled with the supernatural. WOW!




Epidote the Stone of Manifestation
New Age - Deanna Leigh Joseph, Editor

Epidote has long been one of my favorite stones for supporting my manifestation practices. However, to use this stone, I first had to learn to align with my highest good. Read on to find out why! 





How Good Bugs Help Embryo Implantation
Infertility - Hannah Calef, Editor

A reproductive tract populated with lactose-fermenting bacteria may boost fertility




The Evolution of Johnson's 1965 Education Act
School Reform - Maeve Maddox, Editor

The original ESEA was intended to compensate for the obstacles to learning created by poverty. Since 1965, ESEA has been modified, renamed, and extended to include such issues as civil rights.


| Google+ |
E D I T O R R E C O M M E N D E D
Your Adoption Guidebook


Considering adoption and not sure where to start? This handy guidebook is for you! You'll find everything you need to decide if adoption is the right path and then learn how to begin the process.
Spectorsoft EBlaster 6.0 Security and Monitor Soft


Installed in less than five minutes the eblaster software monitors the online activity of children. Providing email alerts to the designated email whenever a child receives or sends an email. Also, allows monitoring of chat rooms, key strokes, and instant messages. See who is talking to your child online.
Heart Strings - cozy mystery


She's certain she knows who the killer is, but will she be brave enough to confront the murderer for the scoop of a lifetime? This quirky cozy mystery is sure to keep you entertained and guessing to the last page.